Make your business thrive
Replace manual processes and stale data with AI-powered accounting automation. Stay one step ahead with real-time accounting.
As your business grows, are you outgrowing QuickBooks
®

?
Save money by using Docyt. It extends the life of QuickBooks® and costs less than an expensive ERP.
Become more efficient by shifting data management to AI and automation. Run your back office in one unified application. Make better-informed decisions based on your real-time P&L and balance sheet.
Product
Get everything done in one unified application.
Automated Revenue Tracking
Track every penny you earn.
Docyt understands revenue reports from 30+ systems. Whether you have one business or many, see your daily revenue including cash and merchant processor deposit tracking.
POS systems
PMS systems
Cash tracking
Billing systems
Merchant processor reconciliation
Automated Spend Management
Empower your team with a single, unified tool for the back office.
Docyt's artificial intelligence (AI) creates a streamlined, integrated workflow. Pay bills, reimburse expenses, manage credit card spending, capture receipts, and store documents – all within Docyt.
Bill pay
Corporate Cards
Employee Reimbursements
Budget Controls
Receipt Tracking
Continuous Documented Reconciliation
Docyt does the complicated and tedious work for you.
Docyt's AI continuously categorizes bank transactions, matches them with receipts and invoices, and continuously syncs everything into QuickBooks®.
Depending on the transaction, Docyt creates simple or complex ledger entries. You no longer have to touch QuickBooks®.
Document Matching
Automated Accruals
Advanced Settlements
Inter-Entity Splits
Many to Many Match
Real-Time Financial Reports
Make better decisions informed by real-time income, expenses, and profitability.
Only Docyt captures and automates financial data for both sides of the balance sheet. With Docyt, you get real-time financial statements.
Department P&L
Financial Dashboards
Investor Package
Balance Sheet Integrity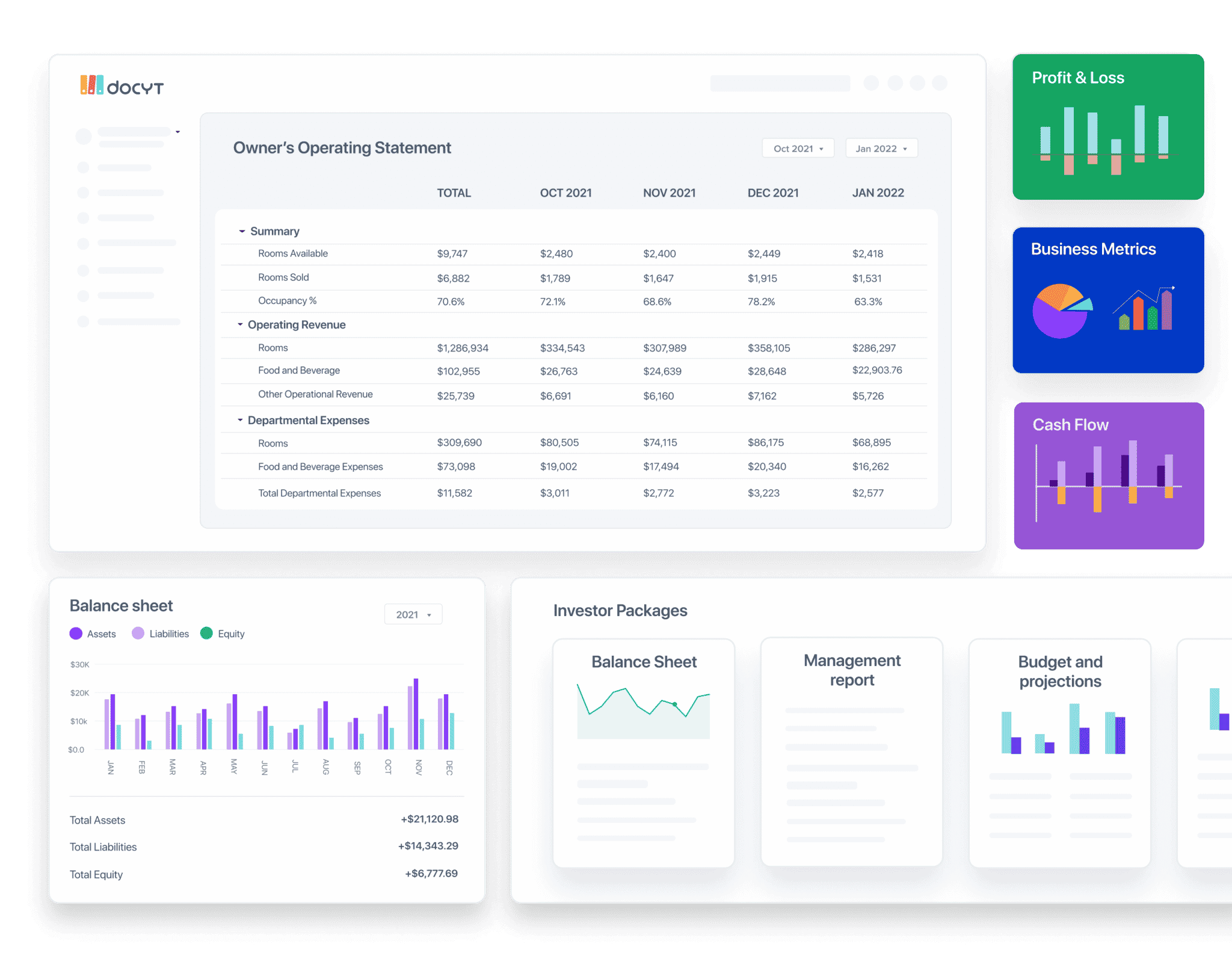 Docyt Customers
"I chose Docyt to better organize and simplify our accounting and accounts payable systems. It has turned out to be a great choice and alleviated the stress and burden of those functions. I've enjoyed my relationships with the Docyt team and look forward to continuing to work with them."

Bhupen B. Amin
Lotus Hotels & Investments
"Docyt has made my interaction with my accountant more meaningful. Happy that I am finally spending more time improving my business rather than doing manual data entry or other frustrating back office work."

Tony Agosta
Partner, Agosta Insurance
Franchise Owners Who Use Docyt
Accelerate the productivity of your teams
Use automation to reduce complexity and streamline your financial workflows and operations.
Maximize your investment in your ERP system
Docyt makes your ERP run better.
Docyt is a cloud automation layer for the accounting and finance modules in your ERP. It replaces manual data entry and manual processes with AI-powered automation.
ERP agnostic
Audit-controlled workflows
Expense automation
Sub-ledger automation
Continuous, documented reconciliation
Automated metrics, reports, and dashboards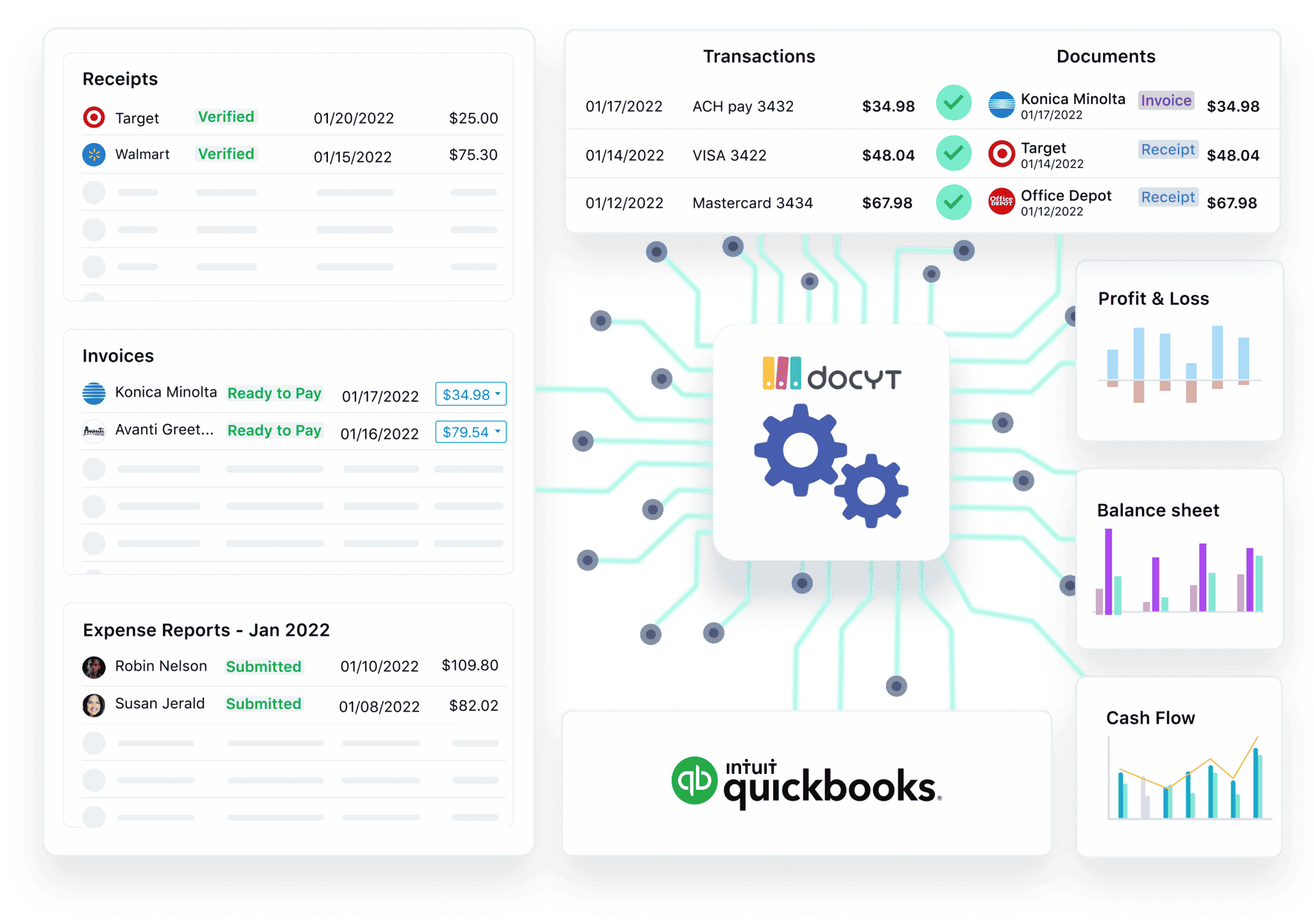 Automated Spend Management and Reconciliation
Lighten your employees' burden by giving them better tools.
Well-designed mobile and web apps empower employees and scale productivity for your business.
Submit expenses on mobile app.
Capture receipts on mobile app.
Automated bill payment workflow.
Role-based employee access and approval controls.
Automatic reconciliation of bank transactions with invoices and receipts.
Automated Revenue Tracking and Reconciliation
Track every penny you earn. Docyt automates your revenue tracking across your departments, locations, and business entities.
Docyt AI understands data from 30+ POS and PMS systems.
Reconcile bank deposits with merchant processor reports. Follow up on discrepancies.
Daily reporting with cash tracking and merchant processor deposit tracking.
See revenue earned by category.
Continuous, Documented Reconciliation
Close the books faster. Docyt AI does the heavy lifting for you.
Docyt AI automates data entry, categorization, and matching of bank transactions with invoices and receipts.
Categorize one transaction. Docyt learns instantly and can categorize similar transactions in one click.
Docyt AI eliminates the need to build and maintain manual rules.
Easily do inter-entity splits and settlements. See roll up reports.
Team Collaboration
Involve your team in different workflows through tight access controls and permissions.
They can
upload receipts
verify invoices
approve invoices
make payments
Ask questions in the app. All chat history is tied to the individual transactions and documents.
Security and Compliance
Reduce data risk. Since Docyt is an integrated solution, it eliminates the need to distribute sensitive data across piecemeal bill pay, expense management, receipt capture, and month-end reconciliation software.
Audit logs
Tight employee access controls via roles and permissions
Vendor risk management
Tax and vendor compliance
Multi-Entity Accounting
Docyt gives you a consolidated workflow and reporting experience for all your business entities.
Split expenses across entities and do a settlement at the end of the month, quarter, or year. For each event, Docyt will update each company's balance sheet.
Inter-entity splits
Inter-entity settlements
Multi-entity access controls
Multi-entity consolidation reports
Advanced Use Cases
Free yourself from Excel. Docyt will automate and simplify your accounting workflows.
Fixed asset accounting
Sales commission accounting
Payroll accounting
Revenue recognition accounting
Pre-paid expense accounting
Inventory accounting
Accounting automation makes your firm more efficient
Docyt replaces manual data entry, manual processes, and a complicated tech stack with one integrated, AI-powered platform.
An Automation Layer for Accounting Software
Docyt automates QuickBooks® and makes it run better.
Docyt extends the life of QuickBooks® Online, and removes the need for expensive ERP software.
Docyt is the cloud interface your clients use for their daily financial workflows and collaboration with you.
Only you touch the accounting ledger, so the books do not get disrupted.
Continuous, Documented Closing
Close the books faster. Docyt's artificial intelligence (AI) does the heavy lifting for you.
Docyt automates financial data collection, digitization, categorization, and reconciliation.
No rules! Docyt AI eliminates the need for manual rules.
Docyt AI learns from you. The more you use it, the smarter it gets.
12 months of bookkeeping can be completed in 20-30 hours!
Multi-Entity support including splits and accruals.
Practice Management
Delight your clients and employees with a thoughtfully-designed collaboration tool.
Assign staff to clients and workflows
Delegate employee's level of access to data and tasks
Integrated inbox to securely collect documents from your clients.
On one screen, see all your clients and actions needed per client.
Your clients have one dashboard for all their business entities and respective tasks.
Modern, Unified Tech Stack
Grow your revenue by 2X and cut manual work in half.
Add hours to your day by shifting manual work to artificial intelligence (AI).
Add more clients without increasing headcount.
Stay competitive with outsourcing and new accounting firm entrants.
Complete practice management solution for your accounting firm
Docyt Customers
"With Docyt, our BPM Outsourced Accounting, Analytics and Systems practice leverages the most innovative accounting technology to service our clients' back office operations. Docyt automates financial workflows and continuously reconciles bills and receipts with bank transactions, allowing us to seamlessly offer clients a one-stop solution for bill pay, employee reimbursements, financial reporting and more. We are thrilled to partner with Docyt to make back-office accounting real-time and elevate our client experience."
Mark Leverette
Partner BPM LLP
Docyt is a full-fledged system that does a substantial part of reconciliation automatically. It ties transactions to the supporting documents and pushes them to QuickBooks® which is extremely helpful when dealing with a tax audit. Docyt makes sure all the data is correct, so I can focus on advising my clients instead of checking the books for accuracy.
With Docyt, my clients have the information they need to run their business from their phone. They can pay bills, reimburse employees, and track revenue. Also, they can find answers to their questions by pulling real-time reports in Docyt.
Docyt is the direction accounting needs to go.

Gary Nicolassi
CVN Vista Accounting