Accounting Automation Platform for Business Owners: Know your profitability.
Equip your back office with powerful accounting automation. Have visibility into your business, across all locations, in real time.
Franchise Owners Using Docyt Are Associated With These Brands

Modern tools that remove operational complexity.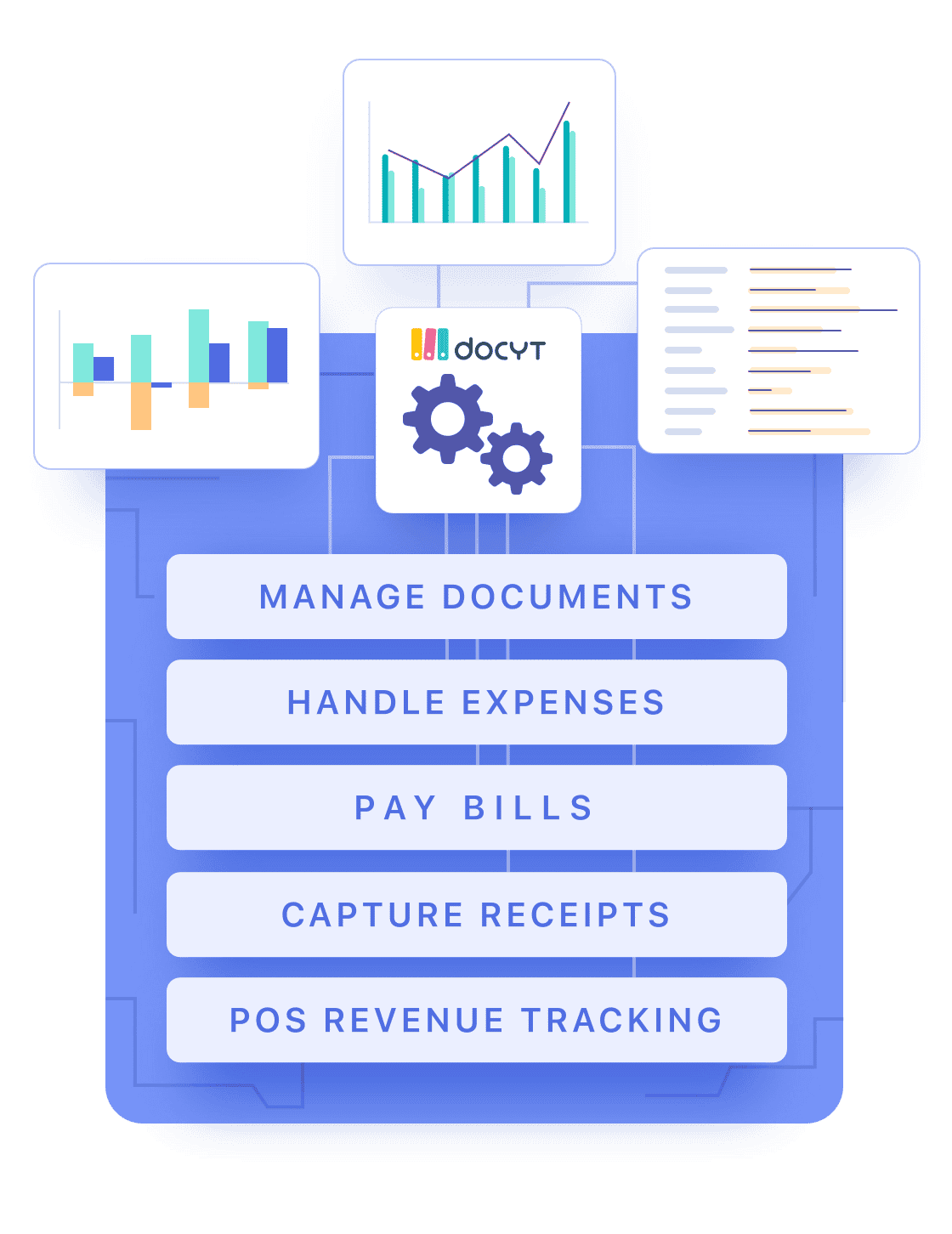 Why growth-oriented business owners choose Docyt.
1. Shift data management to AI and automation.
Work smarter. Stop the manual data entry, double data entry in different software, and manual data syncing between different apps and the accounting ledger.
2. Get everything done in one unified application.
Be efficient. Record revenue, capture receipts, pay bills, handle expenses, manage documents, and chat with your team – all within Docyt.
3. See real-time financial and operational metrics.
Make faster decisions. Since Docyt aggregates and automates all your financial data and workflows, you can access a continuously updated P&L and balance sheet for each business.
Business owners who use Docyt have:
Business owners who use Docyt have:
Docyt Automates Income Accounting
Revenue Report Automation
Docyt retrieves daily revenue data, and continuously updates the ledger.
Integrations with 20+ POS systems.
Merchant Processor Tracking
Compare merchant processor deposits to bank deposits to uncover discrepancies.
Track cash deposits against collected amounts to find discrepancies.
Give employees access to your Docyt to validate daily revenue during closing process.
One business low on capital? Keep track of inter-entity cash transfers.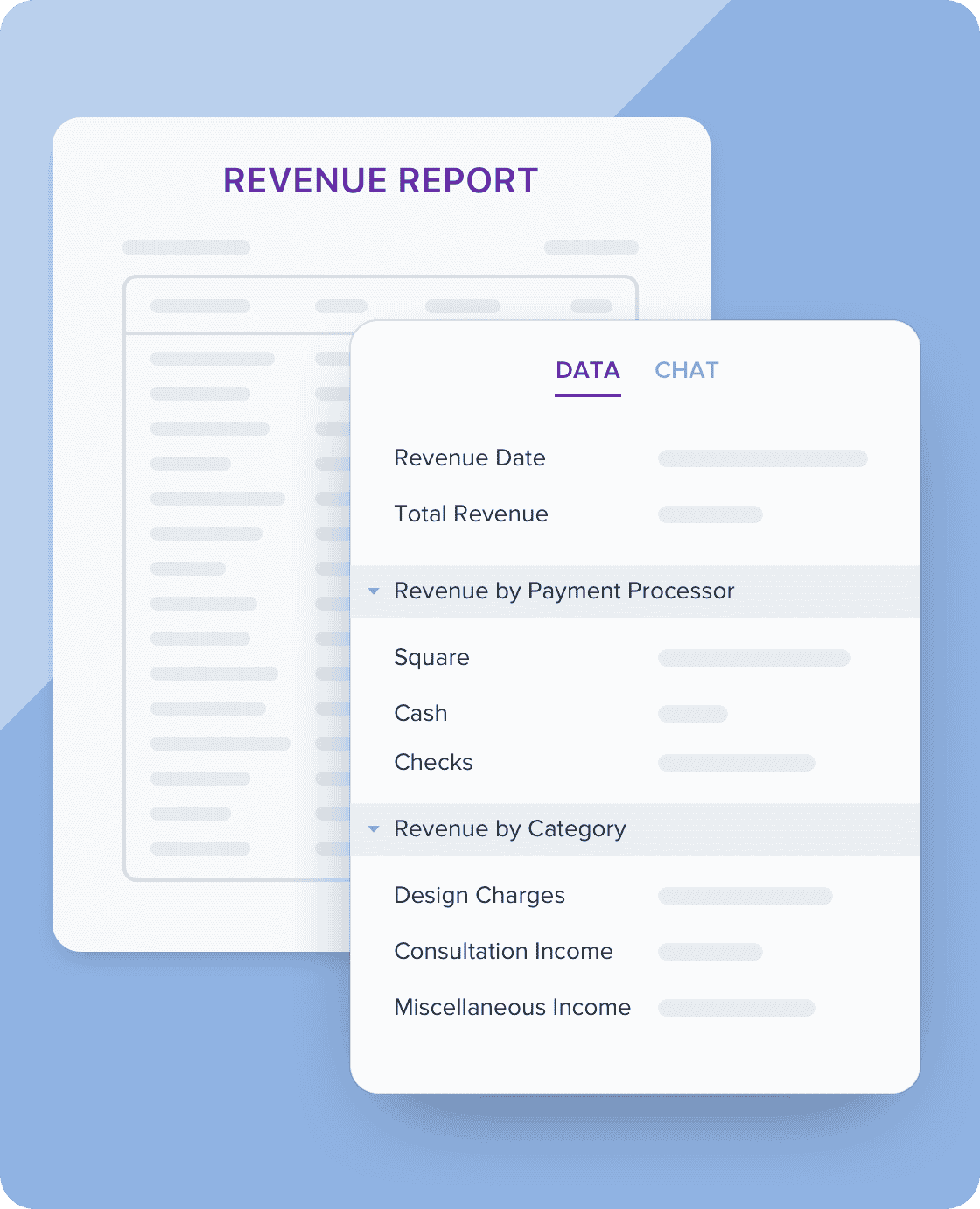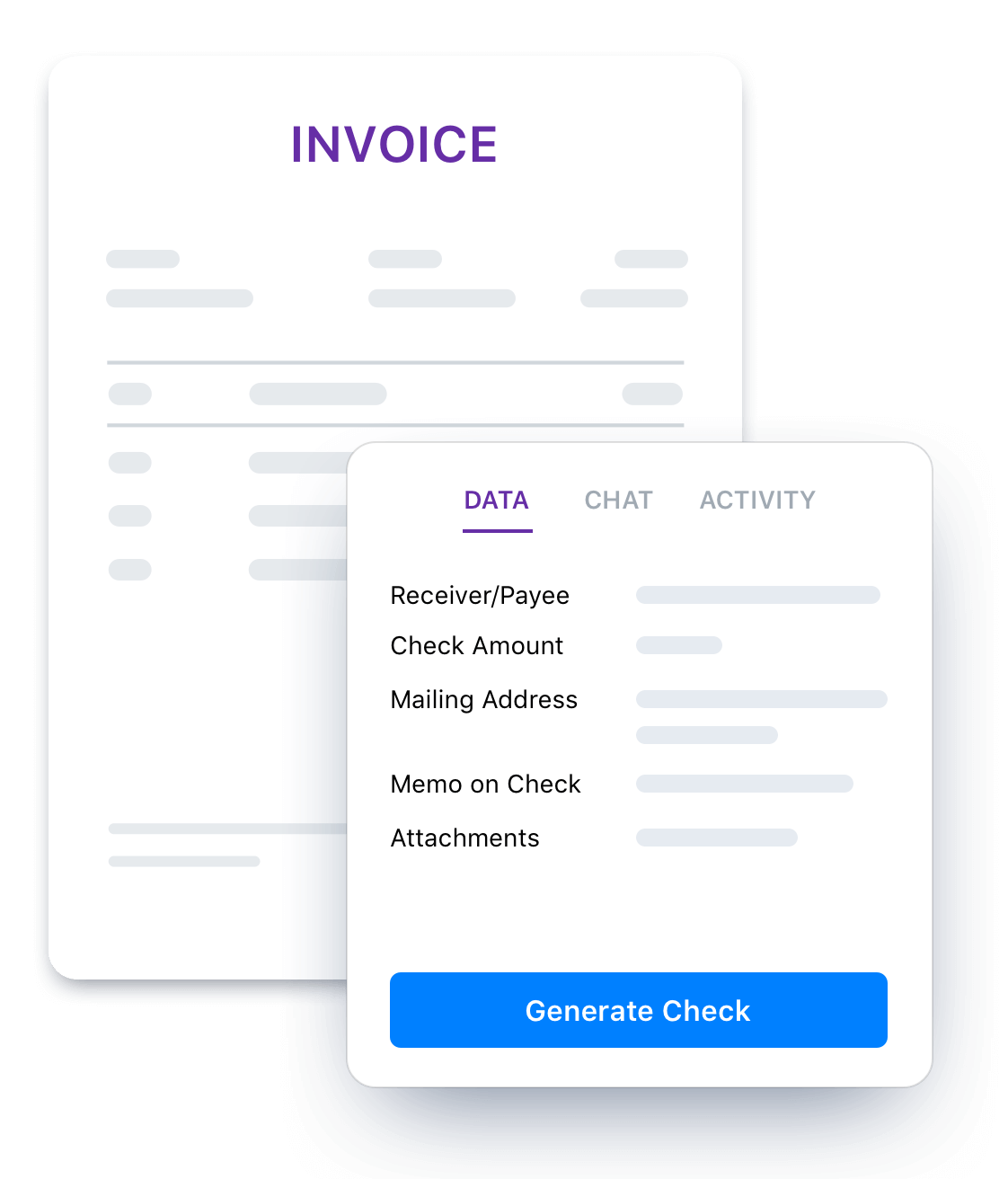 Docyt Automates Income Accounting
Docyt retrieves daily revenue data, and continuously updates the ledger.
Manage employee credit cards and track big expenses.
Scan unlimited receipts. Data extraction powers accounting automation.
An affordable employee reimbursement solution with a modern mobile app.
Docyt Automates Ledger Reconciliation
Docyt is an intelligent accounting automation system that extends the life of your QuickBooks.
Docyt Autopilot learns each industry and standardizes the chart of accounts.
Artificial intelligence (AI) auto categorizes and auto reconciles your bank transactions and documents.
Docyt handles all debits and credits including complex entries like advanced accruals and advanced balance sheet settlements.
Use Docyt and the AI learns from you. No more creating and managing bank rules.
You can review and edit transactions handled by Autopilot. It relearns instantly.
Include Your Tax Accountant
Invite your tax accountant into your Docyt. Give them real-time visibility of your financial data.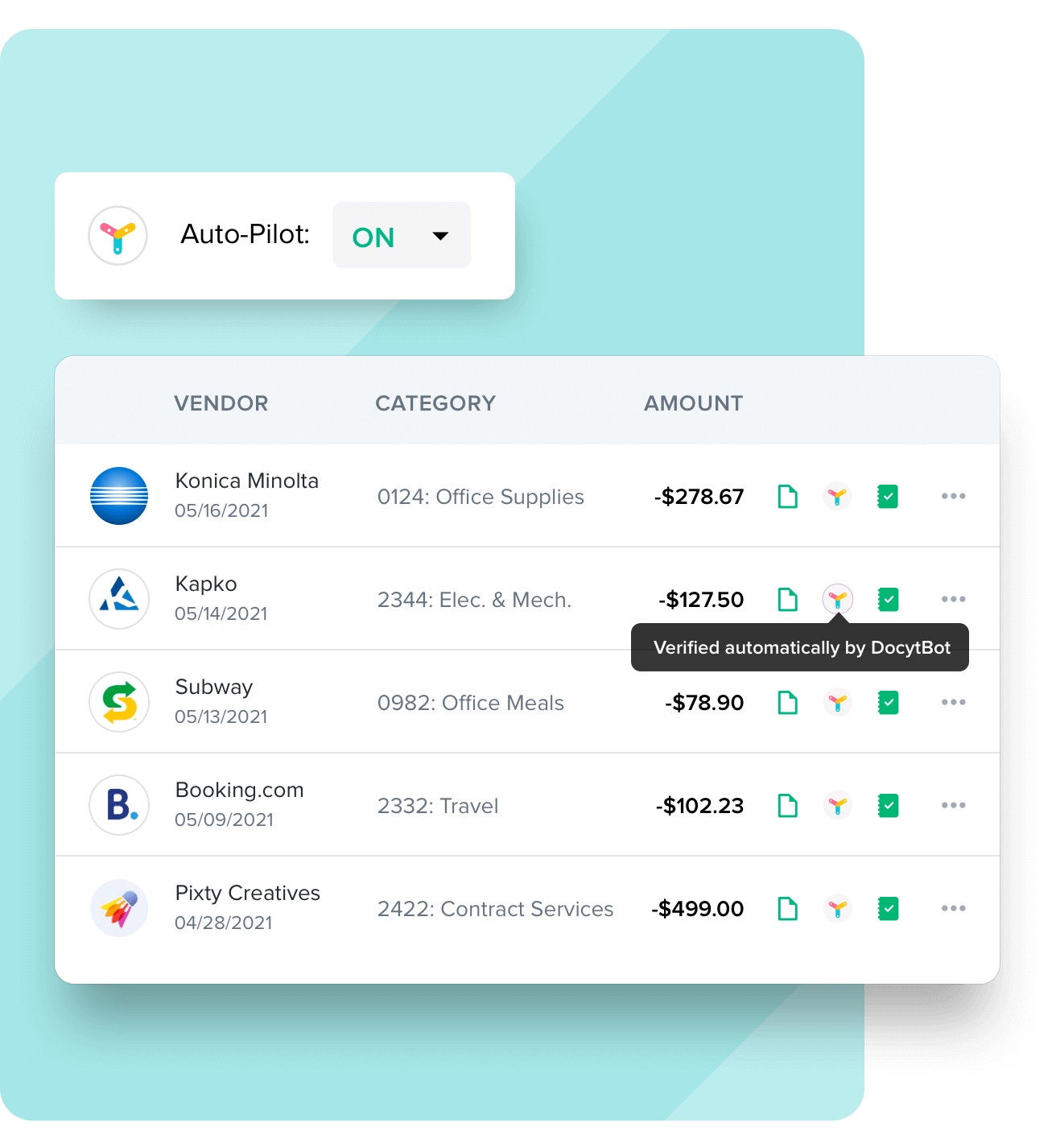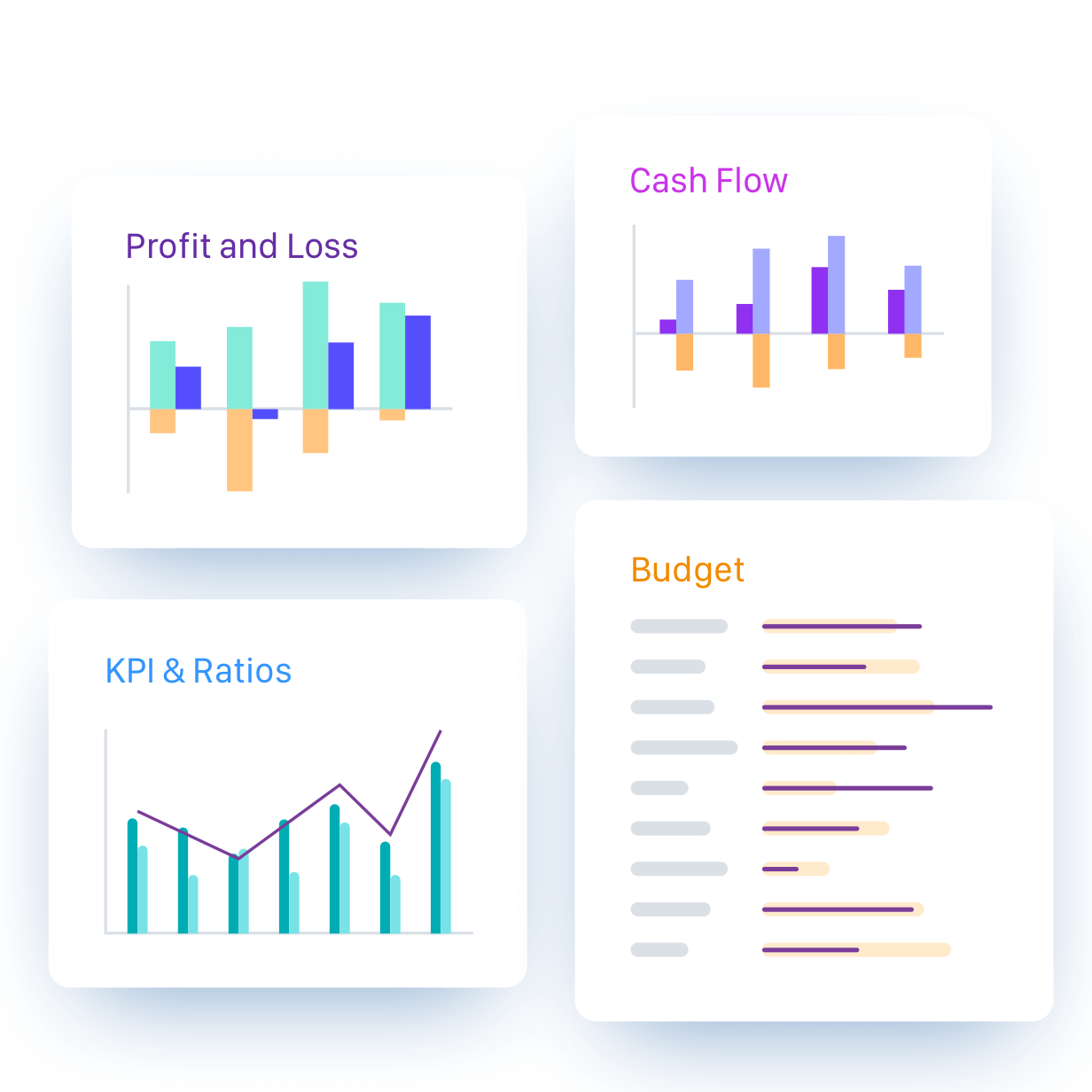 Docyt Automates Financial Statement Generation
Docyt continuously syncs with QuickBooks Online®. Your P&L and balance sheet are real-time.
Department-Level Reporting
Do you have departments? Docyt provides department-level P&L.
Module Specific Reporting
Every Docyt module has reports. For example, Accounts Payable has check payment and vendor reports.
Business Metrics and KPIs
Add and track custom metrics for your industry and business.
Get comparison and aggregate reports for multiple business entities or locations.
Access Control for Reports
Empower your team. Give them access to specific financial reports.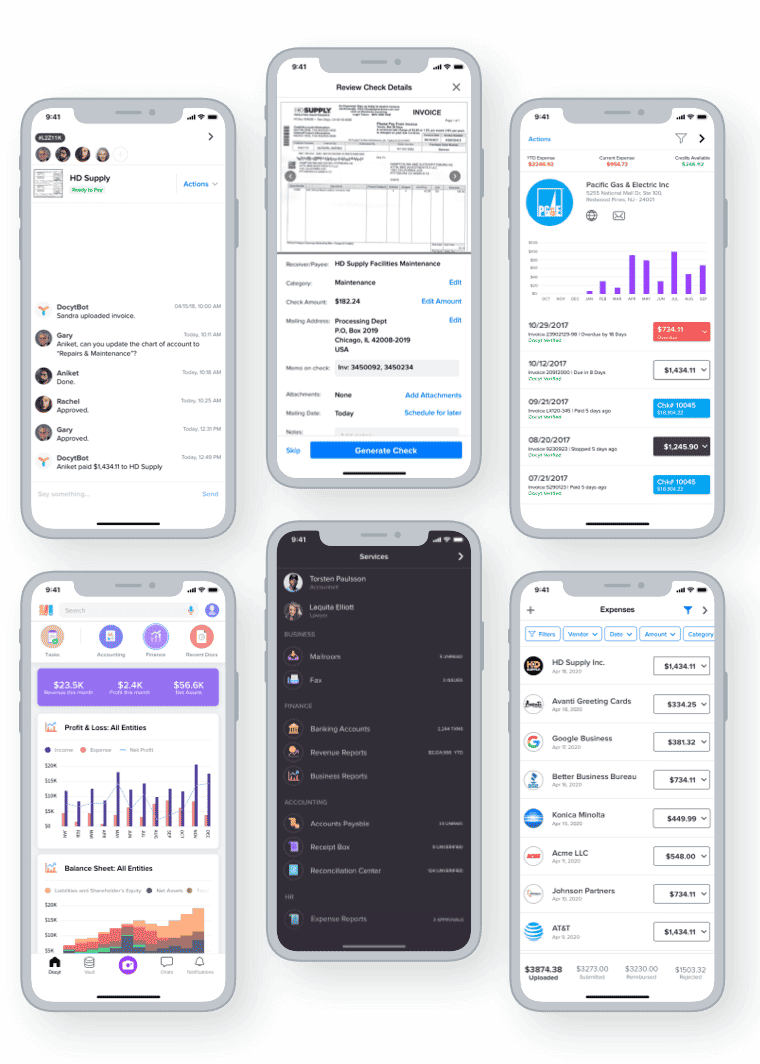 Run your business with modern digital tools.
Our full-featured mobile app frees you from your physical back office. Approve invoices, make payments, and answer questions - all from your smart phone.
Your employees can scan receipts and invoices and submit expenses from their smart phones. This speeds up document collection and audit protects your business.
All data and documents are secure and encrypted. Small businesses are a target for hackers. Docyt provides critical security protocols and peace of mind.
Docyt gives business owners greater control. See real-time income, expenses, P&L, and balance sheet, so you can make informed decisions quickly.
"Before Docyt, I struggled to understand what was going on in our business, as did our accountants. With Docyt, I am seeing things so much faster and better."
Set up takes about 15 minutes.